Judging & Scribing
Judging & Scribing
For each test, there is also a Directive. The directive states the purpose of the test and the overall concept the judge is looking for when judging a ride. During a test, the judge sits at the letter C (and B E H or M if there is more than one judge for the test) and is assisted by a scribe who writes the judges comments on the test so that the rider has a better understanding of why they got the particular mark they received.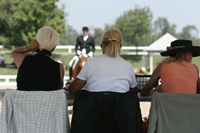 In addition to the regular tests, riders may also ride freestyle to music, quadrille with a total of four horses and riders or a pas de deux with two horses and riders. Each of these types of tests has specific guidelines. There are also special classes where young horses and breeding stock are shown in-hand and are judged for their potential as a dressage sport horse or, in the case of breeding stock, capable of producing dressage sport horses.
Anyone can volunteer at a schooling show to scribe. Schooling shows are not recognized as official shows but are a great way to practice riding tests or to learn to scribe for a judge. Once you have scribed at a schooling show and at the lower levels, you may ask to scribe at a recognized show and perhaps even the FEI levels of competition. The USDF provides an excellent free resource, the USDF Guide for Scribes.