Information for New Riders
New to NAJYRC
The process may be bewildering for those qualifying and competing for the first time. The following information may help as you navigate through the process.
NAJYRC is subject to the rules and restrictions of the FEI and is rated as a CDIOJY, which means it is one of the highest rated FEI competitions specifically designated for these age groups.
This competition is often the first occasion for a young competitor to ride on a team and teaches how to achieve a common goal through cooperation. The importance of teamwork and sportsmanship cannot be over emphasized.
Qualifying to ride at this competition is an accomplishment in itself. However, many riders have serious aspirations to make the top 12, or maybe win a medal. Some riders have a goal to someday compete on an international level, and the results of this competition may help them toward that goal. Although this should be a fun and rewarding experience for all riders, the serious nature of this competition needs to be realized.
FEI Junior/Young Rider – a Unique Group of Equestrians:
The FEI defines a person as a Junior Rider in NAJC from the beginning of the calendar year he/she turns 14 through the end of the year he/she turns 18. Young Riders are eligible for NAYRC from the beginning of the calendar year he/she turns 16 through the end of the calendar year he/she turns 21.
Region:
For FEI purposes for this competition, every USDF Region within the United States is considered a "country." FEI requires there be at least one other international team entered (i.e. Canada or Mexico) in order for the competition to be considered an International Championship. Each "country" may enter one Junior and one Young Rider team with a maximum of four athletes at each level.
Regional Coordinator/Chef d'Equipe – Two Key Players as Team Leaders and Managers:
Each USDF Region has a Regional Coordinator who may or may not also serve as the Chef d'Equipe. Find yours here. The coordinator is your first line of communication. They can answer any questions about the application and qualifying process, the competitions, and how to prepare for your trip. Working together, the Regional Coordinator and the Chef will:
Prior to the competition: Handle all entries for the region's teams, assist teams in coordinating fund raising and team uniforms, arrange for horse transportation and stabling needs, arrange for athlete housing and many other things.
During the competition: Represent and be present with the team and/or individuals throughout all aspects of the event, represent the team at meetings, draws and all dealings with FEI officials and many other things.
The Role of USDF:
USDF is the national affiliate for dressage. For NAJYRC, USDF serves in a managing role for all the teams that will represent each of the nine regions. USDF accepts applications, communicates with athletes, tracks qualifying scores, works with all regional coordinators and chefs, submits "approved" entries to USEF, and works with USEF to gather needed information, among other things. Any questions should be directed to najyrc@usdf.org.
The Role of USEF:
USEF (United States Equestrian Federation) is the governing body for our sport. For NAJYRC, USEF serves as the event organizer.
CDI/Y/J:
Athletes may earn qualifying scores at any CDI/Y/J event held within the qualifying period. CDI scores are not automatically counted; riders must report their scores by submitting a CDI Report Form within the designated time period.
Fundraising:
Fundraising activities and sponsorships help to defray the cost of travel and competing at NAJYRC. All NAJYRC applicants are expected to participate in the fundraising efforts of the region in support of the team. Each region will have different activities and athletes should contact their Regional Coordinator for fundraising and sponsorship ideas and questions. Money raised may not be designated for any one individual, but must go into the region's fund to be used by all team members.
Step 1: Read the Selection Procedures: Athletes, coaches, and parents should read through this carefully. This is your guide.
Step 2: Check the Membership and Age Requirements
Note: ponies and mules are ineligible. Horses must be over 149 cm with shoes.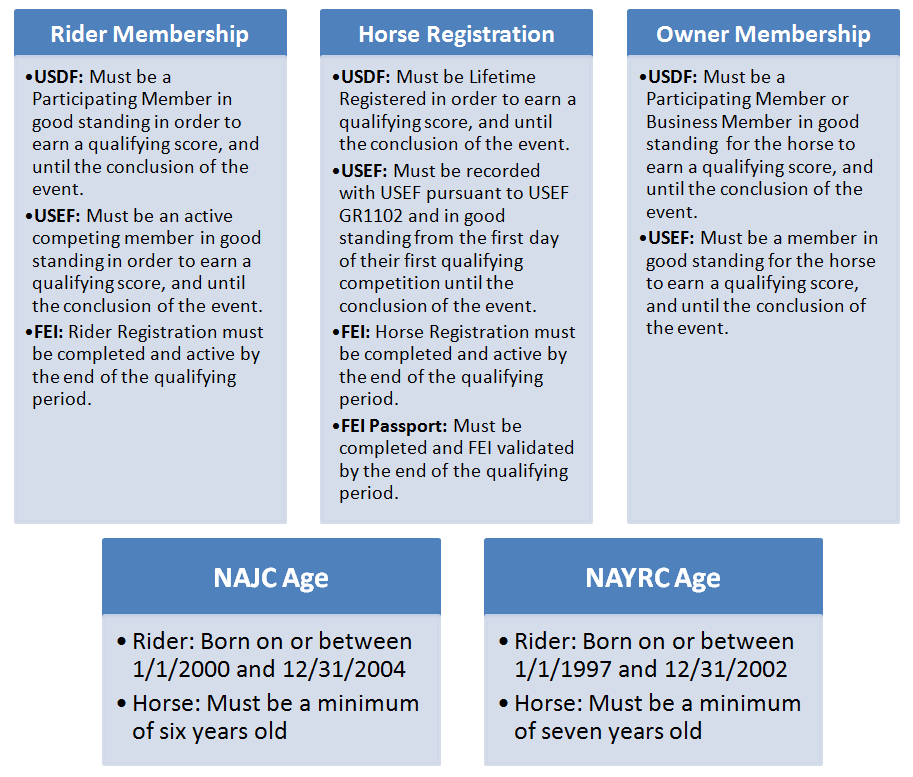 Step 3: Submit Application
Participants must submit an application and application fee to USDF. Applications submitted on or before May 2, 2017 will have a $50 fee. Applications submitted after May 2 and on or before May 16 will have a $300 fee. NO APPLICATIONS WILL BE ACCEPTED AFTER MAY 16, 2017.
Apply Here
Step 4: Qualifying Process
Qualifying Period: August 1, 2016 – June 19, 2017.
Qualifying Competition Calendars. Note: there are two calendars – one for 2016 and one for 2017.
Athlete/horse combinations may earn qualifying scores from designated USEF/NAJYRC Qualifying Competitions, CDI/Y/Js, or USEF National Young Rider Dressage Championships within the qualifying period. Athletes may compete in qualifiers from any region. The following scores must be earned:
Three FEI (Junior or Young Rider) Individual test scores for an average of 62% or above
Three FEI (Junior or Young Rider) Team test scores for an average of 62% or above
One FEI (Junior or Young Rider) Freestyle test score at 62% or above
USEF/NAJYRC Qualifying Competition scores are automatically recorded. However, CDI/Y/J and USEF National Young Rider Dressage Championship scores are not; riders must report these scores using the CDI Report Form within the specified deadline, in order for them to count as qualifying scores.
One set of qualifying scores (one team and one individual) must be earned during the spring season (January 1, 2017 – June 19, 2017). An athlete/horse combination is limited to competing in one qualifier in the same location in a seven day period. CDI-Y/Js are exempt from this requirement.
If an athlete/horse combination competes in more than three designated USEF/NAJYRC Qualifying Competitions, the lowest team score and the lowest individual score will be dropped (regardless of whether or not these scores were earned in the same competition).
Please refer to USEF Rules pertaining to dress, saddlery, schooling, and warm-up at qualifying events.
Step 5: Submit Forms and Paperwork
The following forms must be submitted:
USDF Waiver – signed by rider, trainer, owner, and parent
Certificate of Capability – earned by attaining a minimum overall average of 62.000% attributed by a panel of two (2) or more USEF 'S' or FEI Judges, in the FEI Team Test and FEI Individual Test at three different designated USEF/NAJYRC qualifying competitions. In addition, they must earn, at least one (1) score of 62.000% in the FEI Freestyle. Verification that an athlete/horse combination has met the requirements of the Certificate of Capability will be based upon the achievement of the score requirements above, and by the athlete electronically agreeing through the USDF Website that they have been met by the end of the qualifying period
The following forms are optional, and may be submitted if necessary:
Additional Horse Form – additional horses may be added to an application for free until May 2, 2017. Between May 2 and June 1st, additional horses may be added for a $50 fee per horse.
Change of Region Request – may be submitted if an athlete changes his/her permanent residence. No changes will be accepted after May 3, 2017.
CDI Report Form – used to submit scores from CDI/Y/J events.
Step 6: Verify Scores and Standings
Scores and standings will be posted to the USDF website. It is the athlete's responsibility to verify the accuracy of these standings. Errors must be reported no less than five business days prior to the NAJYRC nominated entry deadline.
By the FEI Nominated Entry deadline (date TBD), each Region will submit a ranked list of up to eight applicant athlete/horse combinations for each event (8 for NAYRC and 8 for NAJC). Ties in overall averages will be broken according to the athlete/horse combination with the highest average FEI Team Test score.
By the FEI Definite Entry deadline (date TBD), each Region will submit their Definite Entries in order of the Region's final ranking. Definite Entries for NAJC and NAYRC will consist of the four athlete/horse combinations named to the Region's "Team." There are no reserve athlete/horse combinations.
For withdraw and substitution procedures please refer to the Selection Guidelines.